About Us
We are more than pleased to offer you an exciting deal to get a taste of authentic Japanese food items. Ginza Japanese Restaurant is right here at Unley road, offering exciting Japanese dishes which include Crab items, Sushi, Salmon and various seafood dishes, that would satisfy all taste buds. Our cuisines bear the real taste of Japanese food, which is unlikely to be found anywhere else. Give it a try! It would surely be a great opportunity to indulge with all the most popular dishes. Even if you want, we can deliver it to your door!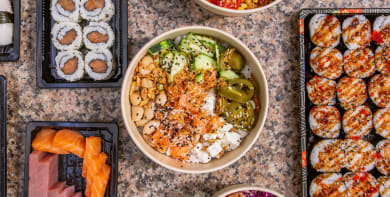 Menu
Contact Us
Find Us
48 Unley rd, Unley, 5061
Opening Hours
Wednesday
12:00 PM - 9:30 PM
Thursday
12:00 PM - 9:30 PM
Friday
12:00 PM - 9:30 PM
Saturday
5:00 PM - 9:30 PM
Please note, delivery times may vary.
We deliver to
5000 Adelaide, 5006 North Adelaide, 5031 Mile End South, 5033 Hilton, 5034 Clarence Park, 5034 Goodwood, 5034 Kings Park, 5034 Millswood, 5034 Wayville, 5035 Ashford, 5035 Black Forest, 5035 Everard Park, 5035 Forestville, 5035 Keswick, 5035 Keswick Terminal, 5037 Glandore, 5037 Kurralta Park, 5039 Clarence Gardens, 5041 Colonel Light Gardens, 5041 Cumberland Park, 5041 Daw Park, 5041 Westbourne Park, 5061 Hyde Park, 5061 Malvern, 5061 Unley, 5061 Unley Park, 5062 Clapham, 5062 Hawthorn, 5062 Kingswood, 5062 Lower Mitcham, 5062 Netherby, 5062 Springfield, 5062 Torrens Park, 5063 Eastwood, 5063 Frewville, 5063 Fullarton, 5063 Highgate, 5063 Parkside, 5064 Glen Osmond, 5064 Glenunga, 5064 Myrtle Bank, 5064 St Georges, 5064 Urrbrae, 5065 Dulwich, 5065 Glenside, 5065 Linden Park, 5065 Tusmore, 5067 Kent Town, 5067 Norwood, 5067 Rose Park, 5068 Heathpool, 5068 Kensington, 5069 College Park, 5069 Hackney